AKsquared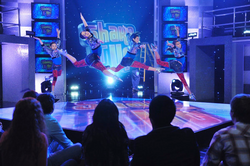 Members
Alyssa
Arielle
Kailey
Kalani Hilliker
Professional Information
Origin:
Arizona
Style(s):
Jazz, hip-hop, contemporary
Affiliation(s):
Make Your Mark
Years active:
2011-present
Official Twitter:
@aksquared4
AKsquared is the winning dance group from the Disney Channel reality competition Make Your Mark: The Ultimate Dance Off. They are from Arizona.
AKsquared includes Alyssa, Arielle, Kailey and Kalani who range in age from 10 to 14 years old. They were featured in the episode Camp It Up, dancing to the song Make Your Mark.
Ad blocker interference detected!
Wikia is a free-to-use site that makes money from advertising. We have a modified experience for viewers using ad blockers

Wikia is not accessible if you've made further modifications. Remove the custom ad blocker rule(s) and the page will load as expected.