| | | | |
| --- | --- | --- | --- |
|  ! | Click here to listen to All in a Burrito | |  ! |
All in a Burrito

Song

by
Flynn Jones & Henry Dillon

Genre(s):

Camp

Credentials
Writer(s):
N/A

Producer(s):

N/A
All in a Burrito is sung by Davis Cleveland and Buddy Handleson as their characters, Flynn Jones and Henry Dillon.
Background
It is a campfire song that Flynn taught to Henry during Flynn's "Camping 101" lesson. Flynn taught it to Henry to sing on the bus so he would fit in with the other kids and not get laughed off the camping trip.
Appeared In
Lyrics
Big blue blobs of briny
Slimy blubber butts
Contaminated crummy junk
Kinda yucky mucky gunk
Barbecued earwax
Sautéed in a booger sauce
All in a burrito
Would you like some chips?
Videos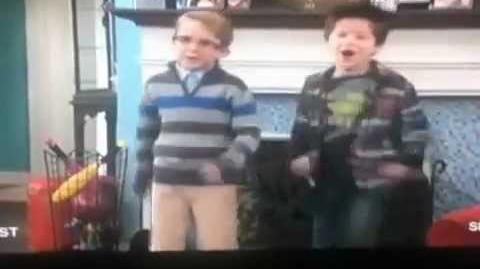 Ad blocker interference detected!
Wikia is a free-to-use site that makes money from advertising. We have a modified experience for viewers using ad blockers

Wikia is not accessible if you've made further modifications. Remove the custom ad blocker rule(s) and the page will load as expected.