Allie DeBerry



Born

October 26, 1994 (age 18)
Houston, Texas U.S.

Occupation

Actress, model

Years active

2001-present

Role
Alexandria "Allie" DeBerry (born October 26, 1994) plays Destiny in the series Shake It Up. She is also a model and currently has a role in A.N.T. Farm as Paisley Houndstooth.
Early life
Alexandria DeBerry was born on October 26, 1994. She was born the youngest of three children to Tom and Cindy DeBerry. Her love for being in front of the camera began early on with her career at age 4. She progressed into the commercial industry, working with Page Parkes Modeling Agency in Houston and the Pastorini and Bosby Talent Agency, also in Houston. She appeared in numerous commercials, including local advertisements for Memorial Hermann Hospitals, as well as national entitles including Academy Sports and Outdoors.
Career Beginnings
DeBerry's acting career officially began in 2001 where she played a "flower girl" in a TV movie
The Way She Moves
. Also that year (2001) she guest starred as "Brittany" in
It's a Miracle
. In 2003, DeBerry landed a guest role in television series
I'm with her
as young Alex. DeBerry had her first theatrical film on 2007 in
Love and Mary
as Sara Pedersen. The following year she continue her television career and booked a reality series
What's the Word?
which she was featured in two episodes. On 2009, DeBerry became more noticed for her guest role in the TV show
True Jackson, VP
she appeared in two episodes, portraying the role of "Cammy", a friend of Pinky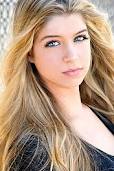 played by iCarly's (Jennette McCurdy). DeBerry was then featured on Disney Channel as she guest starred in
Shake It Up
, her role was Destiny (Flynn's crush), she appeared in two episodes, named "Meatball it Up" and "Hook It Up". Currently, DeBerry has been appearing as Paisley Houndstooth on Disney Channel's newest comedy series
A.N.T. Farm
along with China Anne McClain, Sierra McCormick, Jake Short, Stefanie Scott and Carlon Jeffrey.
Personal Life
As well as moving into the movie industry, DeBerry is also an accomplished singer. As a student at Kingwood Middle School in Kingwood, Texas, she was an All Region choir member. DeBerry also excels in academics and in all that she participates. She has won numerous medals in track meet events, placing in district meets, as well. DeBerry is described by all as a well-grounded and all around exceptional person similar to her character on A.N.T. Farm, Paisley Houndstooth.
Filmography
A.N.T. Farm (2011-) as Paisley Houndstooth (Recurring)
The Tree of Life (2011) as Teenage girl #1 (uncredited)
Shake It Up! (2010) as Destiny
The Wannabes Starring Savvy (1 episode, 2009) as Ballet student
True Jackson, VP (2 episodes, 2009) as Cammy
Good Boy (2009) as Brenda
What's the Word? (1 episode, 2008)
Love and Mary (2007) as Sara Pedersen
I'm with Her (1 episode, 2003) as Young Alex
It's a Miracle (1 episode, 2001) as Brittany
The Way She Moves (TV movie, 2001) as Flower girl
Ad blocker interference detected!
Wikia is a free-to-use site that makes money from advertising. We have a modified experience for viewers using ad blockers

Wikia is not accessible if you've made further modifications. Remove the custom ad blocker rule(s) and the page will load as expected.