Chen Neeman
Biographical Information
Gender:
Male
Professional Information
Occupation(s):
Musician
Chen Neeman is a singer, songwriter, and producer in the entertainment business. He has written and produced loads of songs with his partners Jeannie Lurie and Aris Archonitis for movies and television shows like Good Luck Charlie, Austin & Ally, Hannah Montana, Sonny with a Chance, Shake It Up, Lemonade Mouth, The Muppets, Camp Rock/Camp Rock 2, Princess and the Frog, and Starstruck.
Personal life
He fluently speaks Hebrew and English. He currently resides in Sherman Oaks, California with his wife and two kids.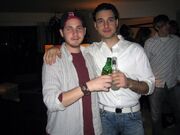 Ad blocker interference detected!
Wikia is a free-to-use site that makes money from advertising. We have a modified experience for viewers using ad blockers

Wikia is not accessible if you've made further modifications. Remove the custom ad blocker rule(s) and the page will load as expected.