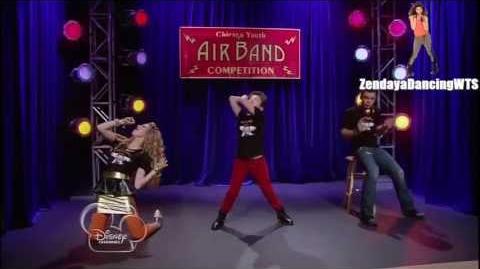 DeFlynKa is the friendship/band pairing of De/uce,Flyn/n and Tin/Ka. As mentioned in the season 3 episode Love And War It Up. The trios take part in an air singing competition and Deuce makes up their band name DeFlynKa.
Trivia
Flynn calls Deuce and claims that there is an emergency and tells him to come over.
When Deuce comes over to the Jones apartment in a hurry he gets to know that Flynn wants him to take part in the air band competition with him.
Deuce agrees and takes the part of the drummer in the band.
Soon enough Tinka gets to know about the competition and Flynn urges her to audition for him. But Tinka refuses to audition and threatens them to take her in the band as the lead singer.
Flynn and Deuce agree and Flynn decides to be the guitarist of the band.
Disagreement between the trios
Tinka and Flynn keep fighting over silly little things.
Flynn starts to annoy Tinka by bickering about bringing the wrong snack with her.
Tinka claims that she is sick of the attitude of Flynn.
Deuce tries to reason with them and makes them realise that they are more than just a band.
He says they are DeFlynKa according to the shirt he bought for the band.
Ad blocker interference detected!
Wikia is a free-to-use site that makes money from advertising. We have a modified experience for viewers using ad blockers

Wikia is not accessible if you've made further modifications. Remove the custom ad blocker rule(s) and the page will load as expected.