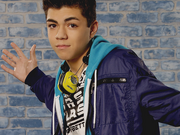 Martin "Deuce" Martinez
is a character on
Shake It Up
. He has been described as a con-man, usually seen selling random things, usually from the inside of his jacket. Deuce has connections to everything ("
Add It Up
"). Deuce is described to be Rocky and CeCe's confident, resourceful and irrepressible neighbor, and long time friend who helps navigate all kinds of fun adventures. He comes from a Cuban family and has stated that his father runs the "family business", which he is not allowed to know about until he is 18. Because of his family's background, Deuce comes off as sneaky, cunning, and street-smart. He also has a goofy side, especially when it comes to hanging out with his best friend Ty and his friend Flynn.
Gallery
Episode Screenshots
Animations
Ad blocker interference detected!
Wikia is a free-to-use site that makes money from advertising. We have a modified experience for viewers using ad blockers

Wikia is not accessible if you've made further modifications. Remove the custom ad blocker rule(s) and the page will load as expected.