Flocky (Fl/ynn and R/ocky) is the friendship pairing between Rocky Blue and Flynn Jones They are neighbors, and appear to be friends, since Rocky is best friends with Flynn's older sister, CeCe.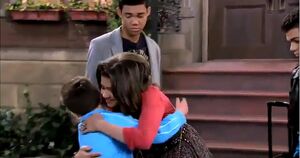 Season OneEdit
Rocky and CeCe made him a 1-Minute Breakfast.
Rocky helped CeCe to get him to calm down when he was hyper from the energy drinks.
Flynn (along with Ty) helped Rocky (and Cece) to win the Dance-athon.
Flynn cried when she left in the limousine to New York.
Flynn said it was like losing his favourite sister.
Rocky and Flynn hugged
---
Season TwoEdit
Rocky encouraged Flynn to have an adventure, which led him to tag along on their trip to Alabama, then Los Angeles.
They (with CeCe) ended up in Pepe, Texas.
Rocky forces CeCe to apologize to Flynn.
Flynn tells Rocky about he and Cece's parents situation
Flynn helps Rocky and Cece planning Cece's mom and dad's wedding
They sneak onto the set of the movie
---
Season ThreeEdit
They accidentally gets quarantined in a patient's room together
Flynn burps on Rocky.
The image gallery for Flocky may be viewed here.