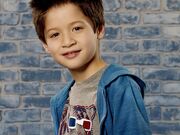 Flynn Jones
is a main character on
Shake It Up
. He is the youngest character on the show at 8-years-old. Flynn has a lot of interesting hobbies which include video games, karate, robots and magic tricks. He also enjoys bacon and energy drinks. Whenever the doorbell rings, he (along with his sister
CeCe
) has a tendency to yell before opening the door ("I'll get it, mom!") He is a very mischievous kid who gets scared watching horror movies.
Gallery
Ad blocker interference detected!
Wikia is a free-to-use site that makes money from advertising. We have a modified experience for viewers using ad blockers

Wikia is not accessible if you've made further modifications. Remove the custom ad blocker rule(s) and the page will load as expected.