Heavy Impact Crew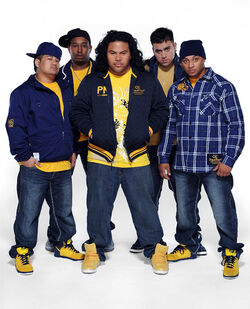 Members
Christopher "2AUCE" Edwards
Greg Baja
Isaac Tualaulelei
Leon "CooLeon" Henderson
Stephen Isi Tuifua
Professional Information
Origin:
Los Angeles, California
Style(s):
Hip-hop, krumping
Affiliation(s):
America's Best Dance Crew
Heavy Impact Crew is a dance crew that appeared as Lakefield Mall dancers in the episode Jingle It Up. They performed to the song Jingle Dub. Heavy Impact Crew were contestants on season five of America's Best Dance Crew, placing 7th overall.
These big boys are out to break negative stereotypes and prove dancers come in all sizes. These guys have big hearts and hope they can inspire others who have a passion for dance, saying, "No matter what the size, if you love to dance, you are a dancer."
Heavy Impact hopes the combination of infectious feel good dancing and inspirational charm will win over America, but they know this isn't going to be an easy feat. They know people are going to assume they're a joke based on their appearance; this is a hurdle they've faced their whole lives.
Inspiration has carried these boys a long way. Two years ago, crew member Isi was ejected from a car in an accident that left him hospitalized for a week. Lying in that hospital bed, Isi wondered if he'd ever dance again. Thankfully, he recovered and fought hard to get back into the dance scene. Going through that experience was eye-opening, and he realized how much he wanted to make dance his whole life.
Making it to America's Best Dance Crew is a huge success for them and they know how important their first performance is. They want to prove you can't judge a book by its cover: "The first show is our first impression to America and we want to hit hard and go for blood."
Ad blocker interference detected!
Wikia is a free-to-use site that makes money from advertising. We have a modified experience for viewers using ad blockers

Wikia is not accessible if you've made further modifications. Remove the custom ad blocker rule(s) and the page will load as expected.