ICONic Boyz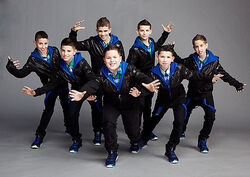 Members
Jason "NoBones" Smith
Louis "Da Pitbull" DiPippa
Madison Alamia
Mikey "Spikey Mikey" Fusco
Nick "Nicholicious" Mara
Thomas Miceli
Vincent Castronovo
Professional Information
Origin:
Englishtown, New Jersey
Style(s):
Hip-hop, street jazz
Affiliation(s):
America's Best Dance Crew
Official website:
ICONicBoyz.com
Official Twitter:
@ICONicBoyz
The ICONic Boyz are a dance crew that appeared in the episode Copy Kat It Up, performing to a remix of th Live 2 Dance soundtrack. They were competitors on the sixth season of "America's Best Dance Crew", finishing the compeition as runner-up.
With a member of the crew clocking in at 10 years old, these boys are the youngest dancers to ever compete on "America's Best Dance Crew". Drawing inspiration from the likes of Michael Jackson and Justin Bieber, this "boy band of dance" impresses the crowd with a unique style of hip-hop and street jazz. The boys in this crew have been pursuing dance while other kids their age take up sports like football, baseball and basketball. Considering themselves a band of brothers, these underdogs say they have more experience than most people think.
Ad blocker interference detected!
Wikia is a free-to-use site that makes money from advertising. We have a modified experience for viewers using ad blockers

Wikia is not accessible if you've made further modifications. Remove the custom ad blocker rule(s) and the page will load as expected.