Instant Noodles Crew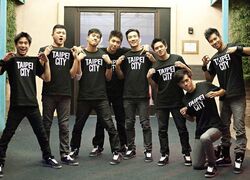 Members
Chris Kuo
Charles Lee
Mike Yang
Geo Lee
Aya Lee
Chuck Maa
Arthur Lien
Rob Tsai
Tom Tsai
Professional Information
Origin:
Taipei, Taiwan
Style(s):
B-boys, hip-hop
Affiliation(s):
America's Best Dance Crew
Years active:
2003-present
Official website:
instantnoodlescrew.com
Official Twitter:
@InstantBboys
Instant Noodles Crew is a dance crew that appeared in the episode Beam It Up as featured dancers, where they danced to the song Calling All The Monsters.
Although the name "Instant Noodles" was conceived at a Chinese restaurant in Rowland Heights, California in 2003, the roots of the crew began a few years prior at Taipei American School (TAS) in Taipei, Taiwan. All 9 members of Instant Noodles grew up in Taiwan, 8 of whom are currently pursuing careers and education in Southern California. Before graduating in 2003, Rob, Geo and Chuck establisheda presence of Breaking within the TAS community, inspiring future generations of b-boys that continue to thrive to this day. After moving to California for college, Instant Noodles was officially formed, and began participating at underground B-boy jams and battles. Tom, Rob's brother joined them in 2005. Subsequent visits back home put the crew in touch with younger b-boys at TAS, who eventually found their way to California, becoming officially inducted into the crew; Chris in 2007, Mike and Charles in 2008, and Arthur in 2010. Despite the age range, the members of Instant Noodles remain strong in their shared origin of Taiwan, love for dance, and pursuit for personal growth. Instant Noodles is not known for winning jams or having the biggest tricks, but that does not discourage the crew. Their main aspiration is to remain true to their craft in building a distinctive, entertaining style, fueled by music, creativity, and the company of each other.
In the summer of 2009, Instant Noodles ventured into new territory: choreographed stage shows. What began as a simple dance studio recital show expanded into more performance opportunities, as well as competitive stage events. Instant Noodles, since then has had the opportunity to perform at World of Dance in San Mateo and Pomona, the Ford Amphitheater, and the Choreographer's Carnival at Avalon in Hollywood, CA. Although Instant Noodles was never intended for competitive stage shows, several small local contests (KIISFM Summer Dance Crew Competition, San Diego's Best Dance Crew) eventually led up to a desire to compete at Hip Hop International 2010, an experience that took the entire crew by surprise. Instant Noodles placed 2nd during the USA Prelims but missed out of an opportunity to represent the US by one spot, taking 4th in the USA Finals. Recently, the crew has been more focused on individual training, continuing to battle and represent in the underground bboy scene.
Most recently, in April-June of 2011, Instant Noodles was featured as one of the crews on MTV's America's Best Dance Crew Season 6. The crew ended as Top 5. In July of 2011, Instant Noodles also completed in Hip Hop International (HHI), a week long competition in Las Vegas, Nevada. This time their dreams & aspirations became a reality, where they placed 3rd in the HHI USA Finals, allowing them to move onto the World Hip Hop Championship, where they placed 3rd (Bronze) out of over 60 international crews.
Ad blocker interference detected!
Wikia is a free-to-use site that makes money from advertising. We have a modified experience for viewers using ad blockers

Wikia is not accessible if you've made further modifications. Remove the custom ad blocker rule(s) and the page will load as expected.