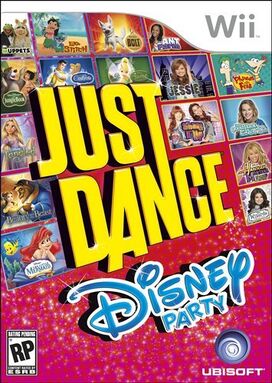 Just Dance: Disney Party is an upcoming video game from Ubisoft[1] and Disney Interactive for the Wii and Xbox 360. It is scheduled for release on October 23, 2012. The dance game will include several songs from Disney movies, television shows and theme parks.
Tracklist
Disney Classics
"The AristoCats" ( "Ev'rybody Wants to Be a Cat")
"Beauty and the Beast" ("Be Our Guest")
"Bolt" ("I Thought I Lost You")
"Cinderella" ("Bibbidi-Bobbidi–Boo")
"Enchanted" ("That's How You Know")
"The Jungle Book" ("The Bare Necessities")
"Lilo & Stitch" ("Hawaiian Roller Coaster Ride")
"The Little Mermaid" ("Under the Sea")
"Mary Poppins" ("Supercalifragilisticexpialidocious")
"Peter Pan" ("Following the Leader")
"Tangled" ("Something That I Want")
"Tangled" ("I've Got a Dream")
The Muppets" ("The Muppet Show Theme")
Tinker Bell, ("Fly to Your Heart")
Disney Channel Original Series and Movies
"A.N.T. Farm" ("Calling All The Monsters ")
"Camp Rock" ("This Is Me")
"Good Luck Charlie" ("Hang In There Baby")
"Hannah Montana" ("Hoedown Throwdown")
"High School Musical" ("We're All In This Together")
"Jessie" ("Jessie Theme Song")
"Phineas and Ferb" ("S.I.M.P." "Squirrels In My Pants")
"Shake It Up " ("Shake It Up ")
"Shake It Up" ("Twist My Hips ")
"Wizards of Waverly Place" ("Everything Is Not As It Seems")
Disney Theme Parks
A Disney Parks iconic song ("It's a Small World")
Gallery
Ad blocker interference detected!
Wikia is a free-to-use site that makes money from advertising. We have a modified experience for viewers using ad blockers

Wikia is not accessible if you've made further modifications. Remove the custom ad blocker rule(s) and the page will load as expected.