Ad blocker interference detected!
Wikia is a free-to-use site that makes money from advertising. We have a modified experience for viewers using ad blockers

Wikia is not accessible if you've made further modifications. Remove the custom ad blocker rule(s) and the page will load as expected.
| | | | |
| --- | --- | --- | --- |
|  ! | Click here to listen to Make Your Mark | |  ! |
Make Your Mark

Song

by
Drew Ryan Scott
Album:
Live 2 Dance

Genre(s):

Dance-pop

Label:

Walt Disney Records

Length:

3:37

Credentials
Writer(s):
Niclas Molinder


Joacim Persson
Johan Alkenas
Drew Ryan Scott

Producer(s):

TWIN
ALKE
Make Your Mark is a song by Drew Ryan Scott and is included on the Season 2 soundtrack, Shake It Up: Live 2 Dance. The song was also previously used as the opening theme song for Shake It Up's first official dance competition, Make Your Mark: Ultimate Dance Off.
Appeared in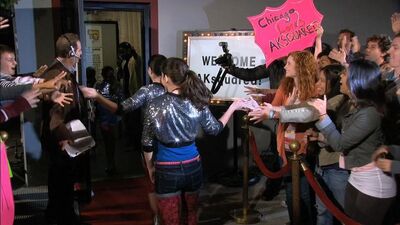 Lyrics
We'll make a mark, we'll make a mark (we're gonna)
We'll make a mark, we'll make a mark (on the dancefloor)
We'll make a mark, (we're gonna) we'll make a mark (on the dancefloor)
We'll make a mark, we'll make a mark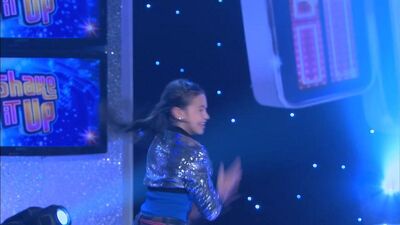 Show time, strobe lights (strobe lights!)
Good life, feels right we're dancing (we're dancing right now)
Nothing could be better now, (nothing's better) oh yeah (no, no nothing's better)
We could do whatever we like and get crazy
If you wanna hang, alright, be my baby
Take me around the world like Superman, save me
Braver, stronger like the Navy, daily
Please don't try to fake it, only truth and lights, creations
Spread the love, no heart is vacant
In the end we'll all be saying "we gonna" Make your mark, make your mark on the dance floor
Make your mark, make your mark on the dance floor
It's time, it's time to start it up
Give all you got no matter what Make your mark, make your mark on the dance floor
Make your mark, make your mark on the dance floor
Tonight we're gonna let it show
We are, we are unstoppable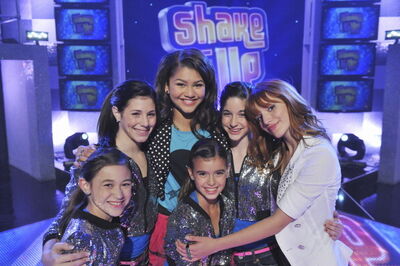 Oh ohh oh oh, we'll make a mark
Oh ohh oh oh, on the dance floor
Oh ohh oh oh, we'll make a mark
Oh ohh oh oh, on the dance floor
Livin' legends, movin'
Doin' whatever (we're gonna change the world)
Tonight we gon' set it off, (set it off) oh yeah (oh, set it off)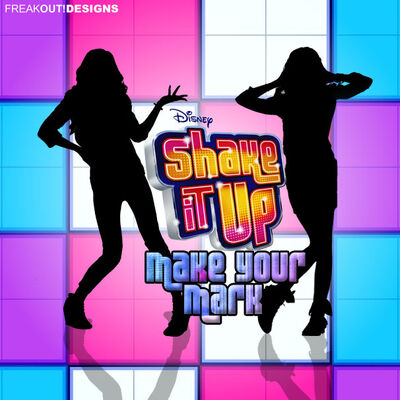 Spiralin' out and I'm wildin' out
All these crazy people gettin' loud and out
I step out on the scene 'cause I'm ready now
R-ready now, r-ready now
I'm showin' 'em, tellin' 'em where I'm from, from, from
I'm taking control, getting what I want 'cause we are
Make your mark, make your mark on the dance floor
Make your mark, make your mark on the dance floor
It's time, it's time to start it up
Give all you got no matter what
Make your mark, make your mark on the dance floor
Make your mark, make your mark on the dance floor
Tonight we're gonna let it show
We are, we are unstoppable
We'll make a mark, (wilding now) we'll make a mark (louding now)
We'll make a mark, (ready now) we'll make a mark (oh ready now!)
We'll make a mark, (wilding now) we'll make a mark (louding now)
We'll make a mark, (ready now) we'll make a mark (we are...!)
Make your mark, make your mark on the dance floor
Make your mark, make your mark on the dance floor
It's time, it's time to start it up
Give all you got no matter what
Make your mark, make your mark on the dance floor
Make your mark, make your mark on the dance floor
Tonight we're gonna let it show
We are, we are unstoppable
Oh ohh oh oh, we'll make a mark
Oh ohh oh oh, on the dance floor
Oh ohh oh oh, we'll make a mark
Oh ohh oh oh, on the dance floor