Make Your Mark: Ultimate Dance Off
Country of Origin:
United States
No. of episodes:
2
Broadcast Information
Original channel:
Disney Channel
Original run:
October 14, 2011 - October 16, 2011
Make Your Mark: Ultimate Dance Off was Shake It Up's official dance competition. The winners, AKsquared appeared in a special Shake It Up episode, Camp It Up. They performed a self-choreographed spotlight dance to the song Make Your Mark.
Overview
In June 2011, a press release announced the upcoming dance competition. Leveraging the success of the hit dance-driven series "Shake It Up," Disney Channel launched its first-ever talent competition exclusively for kids and tweens, "Make Your Mark: Ultimate Dance Off – 'Shake It Up' edition," where kids helped decide the winner. Beginning Friday, July 1, with the consent of a parent, kids had the opportunity to show off their "mad dance skills" by uploading their own short dance video, up to 45 seconds long, for a chance to compete in the ultimate dance off to air on Disney Channel this October. The Grand Prize included a performance in an episode of "Shake It Up."
Viewers were to shake it up and break it down at DisneyChannel.com/DanceStudio where online dance videos by "Shake It Up" choreographer Rosero McCoy and his assistant, Claude Racine, taught kids and families signature "Shake It Up" dance moves. New videos were posted each Wednesday, Friday and Saturday. Users were able to sign up to receive a text alert when a new dance video was posted by texting the word "MOVES" to DISNEY (347639).
From Friday, July 1 to Wednesday, August 3, "Make Your Mark: Ultimate Dance Off – 'Shake It Up' edition" commenced. Kids age 8-16 were invited to go to DisneyChannel.com/MakeYourMark to create and submit a dance video, up to 30-seconds long, with a maximum of five dancers, showing off their choreographed or free style dance moves. Kids were also invited to "like" their favorite videos and the most popular were featured weekly on Disney Channel and DisneyChannel.com.
Beginning Thursday, July 7, a five-city talent search kicked off for the competition at the Americana at Brand in Los Angeles, California, with a special guest appearance by Disney Channel stars. Kids and tweens had the opportunity to record their dance video onsite for online submission. Additional cities included: Chicago (July 9), San Francisco (July 16), Atlanta (July 23), and Detroit (July 30).
Beginning in August 2011, the six finalists were revealed on Disney Channel to face off in front of a group of celebrity judges during the competition on Disney Channel in October 2011. Judges narrowed the selection down to three contestants and kids voted for their favorite to win.
Nearly 30,000 dance videos were submitted and six talented finalists age 10-16 were selected to showcase their dance moves for millions of viewers and celebrity judges, Selena Gomez ("Wizards of Waverly Place"), recording artist Sean Kingston and "Shake It Up" choreographer Rosero McCoy, in Disney Channel's first-ever talent competition exclusively for kids and tweens. The show premiered on Friday, October 14 at 8:30 p.m., ET/PT. The dance off competition telecast was hosted by Debby Ryan (Disney Channel's "Jessie"), Roshon Fegan and R. Brandon Johnson (both of "Shake It Up"), with special guest appearances by Bella Thorne and Zendaya (both of "Shake It Up").
The winning dancer or dance team was to be determined by online and text votes and revealed during the results show on Sunday, October 16 at 8:30 p.m., ET/PT, a telecast highlighted by a musical performance from China Anne McClain ("A.N.T. Farm"). Following the October 14 telecast, viewers had two hours to vote for their favorite finalist at www.DisneyChannel.com/MakeYourMark, or by texting their vote to DISNEY following the Ultimate Dance Off. Viewers were able to vote for up to five times online and five times by text.
For the Ultimate Dance Off performance, the six finalists worked with some of the entertainment industry's top choreographers: Nick Florez (Katy Perry videos and concert tours), Fatima Robinson (Black Eyed Peas choreographer and creative director), Gil Duldulao (Janet Jackson's choreographer), Jimaica Craft (Ne-Yo's videos), Ivan Koumaev (Jason Derulo's choreographer) and Marty Kudelka (Joe Jonas's choreographer).
The finalists included 12-year-old Arjang from California; 12-year-old Jade from Illinois; 13-year-old Amir from Virginia; 13-year-old Christine and 15-year-old June Ann from New Jersey; 16-year-old Casey from Washington and 16-year-old Samantha from California; and AKsquared – 12-year-old Arielle, 12-year-old Alyssa, 14-year-old Kailey and 10-year-old Kalani from Arizona.
In the end, AKsquared was declared the winners and appeared in the episode Camp It Up.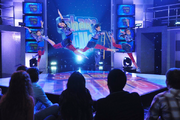 Finalists
Ratings
The telecast ranked No. 1 with kids 6-11 and 9-14.
Season 2
Main article: Make Your Mark: Shake It Up Dance Off
On June 15, 2012, it was announced that the dance competition would return for another season.[1]
References
Ad blocker interference detected!
Wikia is a free-to-use site that makes money from advertising. We have a modified experience for viewers using ad blockers

Wikia is not accessible if you've made further modifications. Remove the custom ad blocker rule(s) and the page will load as expected.