ReCetherinka (R/ocky, Ce/Ce, Gun/ther, T/inka) is the friendship/frenemy quartet-pairing between Rocky Blue, CeCe Jones, Gunther Hessenheffer and Tinka Hessenheffer. They have all known each other since the first grade where they met in dance class, all dance on the same dance show, Shake It Up Chicago, and attend John Hughes High School.
Moments
Season One
CeCe, Rocky, Gunther and Tinka all auditioned to be on Shake It Up Chicago.
CeCe, Rocky, Gunther and Tinka all entered the dance marathon contest.
Rocky and CeCe asked Gunther and Tinka to join them in the talent show to beat Candy and Randy.
Rocky and CeCe asked Gunther and Tinka to join them, because they think that with their help, they could win the talent show contest.
Gunther and Tinka accept to help Rocky and CeCe.
CeCe and Rocky feel bad because they think they are splitting Gunther and Tinka up.
Rocky and CeCe accept Gunther and Tinka's invatation
Gunther and Tinka compliment Rocky and CeCe and vice versa.
They all seemed friendly to eachother during this episode.
Rocky and CeCe didn't want to be rude and turn down Gunther and Tinka's offer to go to their house.
Gunther and Tinka rent a cabin next door to Rocky and CeCe when they were on vacation.
They all play truth or dare together.
Gunther, Tinka and CeCe tried helping Rocky when she hurt her foot.
---
Season Two
Shake It Up, Up & Away
Gunther and Tinka sing the "Gufenhugen" song to Rocky and CeCe.
Gunther and Tinka leave the Shake It Up Chicago program to find Rocky and CeCe.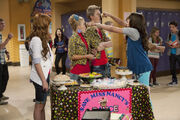 Gunther and Tinka give Rocky and CeCe all the money for their dance school.
Rocky and CeCe told Gunther and Tinka they are nice, caring friends.
Rocky and CeCe agree to babysit Gunther and Tinka's little cousin Klaus.
Gunther and Tinka thank CeCe and Rocky for not splitting them up and say "Sayonara baybees" to them.
They all won the SIU Battle Dome.
Gallery
The gallery for ReCetherinka can be viewed here.
Ad blocker interference detected!
Wikia is a free-to-use site that makes money from advertising. We have a modified experience for viewers using ad blockers

Wikia is not accessible if you've made further modifications. Remove the custom ad blocker rule(s) and the page will load as expected.