ReCinka (R/ocky, C/eC/e, and T/inka) is the tri-friendship pairing of Rocky, CeCe, and Tinka, the main girl characters on Shake It Up. They are dancers on Shake It Up Chicago, and are seen dancing together quite often throughout the series, growing preferably in the 2nd season. At the begging they as a trio didn't get along sometimes, like fighting over the same boy in Three's A Crowd It Up. However, despite their differences, Rocky and CeCe agree to being friends with Tinka in Fire It Up. As the episodes progress, Rocky and CeCe seem to be good friends with Tinka.
This tri-pairing is made up of the pairings ReCe, Cinka, and Ronka.
ReCinka Moments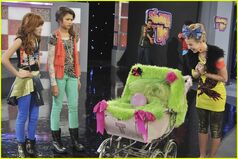 Season One
They are chosen to be on Shake It Up, Chicago together.
Tinka (and Gunther) make fun of Rocky and Cece and they do the same.
The three take part in a science fair where the girls compete against each other.
They are the main dancers for the Not Too Young dance on Shake It Up, Chicago.
---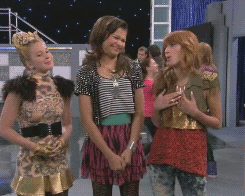 Season Two
All three of them went on what they thought was a date with the same guy.
All 3 of them liked the same guy, meaning they have similar tastes.
They are the main dancers for TTYLXOX on Shake It Up, Chicago.
Tinka goes up to their table at Crusty's and apologizes for not paying them.
They have to go through the tunnels under the streets as shortcuts to school and Shake It Up, Chicago.
Rocky and Cece help Tinka get through the tunnel with ber large

dress even if it takes a lot of time. 
All three of them seem to want the best for each other on that "perfect" night. 
Rocky and Cece help Tinka put on her shoes.
They are the main dancers for the A Space in the Stars dance on Shake It Up Chicago.
They promised to Dina that they'll never tell Deuce about Dina's headgear.
Cece really wants Tinka to join the slumber party and Rocky later agrees.
At the end Rocky and Tinka hug.
CeCe and Rocky stopped Tinka from being deported.
Tinka thanks CeCe and Rocky.
---
Season Three
Tinka reassured CeCe and Rocky that Shake It Up, Chicago! will be rebuilt.
Tinka made cupcakes for CeCe and Rocky.
Tinka took the blame for the fire in order to earn Rocky and Cece's friendships.
CeCe and Rocky accepted Tinka's friendship.
CeCe, Rocky and Tinka are the main dancers for the I'm Back dance.
Rocky hugs CeCe and Tinka when she gets back on the show and three of them seem to be very happy.
At the end of the dance all three of the girls hug.
The girls share the cost of renting a designer bag hoping that they will achieve a special goal, but things don't work out.
Rocky and Tinka commented about CeCe singing on Shake It Up, Chicago.
CeCe, Rocky and Tinka are models for the Shake It Up charity fashion show.
Quotes
Season 1
Rocky: Wow, this is totally... you put a lot of work into... this is really... okay, I give up. What is it?

CeCe: It started out as a volcano, it was briefly a jet engine, but then a Johnny Depp movie came on TV, and now it's a giant thumb.

Tinka: And they wonder why the science teacher weeps at lunch!
ReCinka Info
ReCinka Boss -
Gunther, becasue if he didn't leave back to the old country they never would of become Really Close friends.
ReCinka food - Pizza, They always eat pizza together at Crusty's.
ReCinka Day - October 14th, It was the premiere of season 3, In Fire It Up, when they all became great friends.
Ad blocker interference detected!
Wikia is a free-to-use site that makes money from advertising. We have a modified experience for viewers using ad blockers

Wikia is not accessible if you've made further modifications. Remove the custom ad blocker rule(s) and the page will load as expected.