Rocky Blue
Biographical Information

Name:

Raquel Oprah Blue

Gender:

Female

Age:

15-16

Height:

5'10" (178cm),

Zendaya

's real height

Nationality:

African-American

Hometown:

Born:

March 3, 1996

Nicknames:

Rocky (by everyone)

Rockaroni (by nerd group)
Stretch (by Deuce & Principal)
The Rock (by herself)
Rock (by CeCe and Dina)
Beautiful Lady (By Logan)


Cutie (By Logan)
Behind the Scenes

First Seen:

Last Seen:

TBA

Portrayed by:
Raquel "Rocky" Oprah Blue[1] is one of the main protagonists on Shake It Up where she dances on the local teen dance show Shake It Up, Chicago! However in Ty It Up, she was kicked off the show because the new producer wanted fresh, new faces. She is the daughter of Marcie Blue and Curtis Blue and the younger sister of Ty Blue. She lives in an apartment with her family in the suite above her best friend, CeCe Jones, and her family. Her father is a doctor who later returned in the second season after being away on business trips and working overseas. She attends John Hughes High School in Chicago, Illinois.
Rocky is portrayed by Zendaya and by Jasmyn Ramos as Little Rocky ("Shrink It Up", "Judge It Up").
Personality
Rocky is an extremely pretty girl, who is described as generous, funny, smart, friendly, and overachieving. She values learning and has a perfect attendance record. Unlike her red headed best friend, CeCe, she values school and takes honors classes. She is extremely intelligent, but is more book-smart rather than street-smart, the opposite of CeCe. She is a vegetarian and believes strongly in human and animal rights. Rocky is quite reserved and thinks logically before acting, which causes her to be pushed around by CeCe to take more risks. She is always trying to get CeCe out of trouble, which often gets them both into trouble. Rocky loves dancing and wants to pursue it, much to the early disapproval from her father ("Doctor It Up"). She likes "Pride and Prejudice," but thinks it is about romance. She is also called a goody two shoes by many of the other characters.
In Season 1, Rocky is very outspoken and expresses herself in quiet and respectful ways (excluding "Wild It Up"), but in Season 2, it seems that more of her assertive and snarky side comes out. For example, in "Split It Up", she was breaking mugs with Tinka, and in "Weird It Up", she warns CeCe saying, "CeCe, if you don't apologize, you're gonna have to deal with my super-bad-wheel-of-punishment-time!" She also has a somewhat strange (and semi-sadistic) sense of humor, finding several inappropriate situations funny. In Season 3 Rocky is unable to attend school for the first time ever as she is quarantined in Lock It Up after she chose to help at the hospital.
Change Of Personality Over Time
In Season 1 Rocky was cautious, unsure of herself, smart, and hardworking young girl.
In Season 2 Rocky was a little more authoritative and confident. She often would stand up to others and take charge in situations which only CeCe would have done in the first season.
In Season 3, Rocky is one of the most confident characters on the show. She is outgoing and over-achieving, but still with her sense of fairness.
Rocky was at first nervous to audition for Shake It Up, Chicago!, but she was convinced to tryout by Ty and CeCe. Rocky had an easy time at the audition and was one of the teen dancers chosen to be on the show. However, CeCe was overcome by her stage fright and ran away before completing her audition. Rocky didn't want to be on the show without CeCe, so she handcuffed CeCe to her wrist and forced her to dance with her. Although the stunt got them in trouble, CeCe was hired and they both became dancers on the show.
Rocky has been wanting the spotlight dance since the first season. She and CeCe were given the spotlight dance in Throw It Up, but Tinka sabotaged them and took the spotlight dance instead. In the second season, CeCe and Gunther were given a spotlight dance as well as a spot on Good Morning, Chicago. Rocky was jealous of them and was tempted to try to join Tinka in her attempts to get the spot for herself. However, Rocky decides that it is more important to support CeCe instead.
During the season two finale, Rocky and CeCe are part of the winning Shake It Up, Chicago! dance team that will be featured in the new Japanese dance video game, Shake It Up. While they are in Japan, Rocky speaks out against Mr. Watsonabi and gets both CeCe and herself kicked off the Shake It Up project and Shake It Up, Chicago!. Rocky and CeCe dance their way back onto the dance video game and Shake It Up, Chicago! when they perform for Mr. Watsonabi's mother.
During season three, Rocky must find other options than Shake It Up, Chicago! to dance as the Shake It Up, Chicago! studio has burned down. Although Rocky keeps herself busy by dancing at parties and with the spirit squad, she does miss dancing on Shake It Up, Chicago!. When the Shake It Up, Chicago! studio is rebuilt, it is under new management and all the dancers must be rehired. Rocky is confident about her audition, but is not hired as a dancer. Although Rocky tries to pretend that she isn't bothered by this, CeCe sees through her act and continues to help her earn her spot back. After saving the executive producer's life, Rocky is offered a spot on Shake It Up, Chicago!, however, she refuses as she wants the spot, because of her dancing skills, not what she did for Phil. Phil allows her to reaudition, but Rocky messes up. Later on, Phil admits that it was a mistake to not put Rocky back on the show right away, but he didn't want to admit it. Grateful to be acknowledged for her talent at dancing, Rocky accepts and returns to the show as a dancer.
Relationships With Other Characters
Shake It Up, Chicago
. While they both harbor a love for dancing, they have different personalities: Rocky is a good student who likes to stay away from trouble, while CeCe is often dim-witted, wild, and usually has Rocky do her homework. It was revealed in "
Shrink It Up
", that they met in dance class when they were in first grade, where CeCe was close to quitting until Rocky convinced her to stay. They've been best friends ever since. Rocky is usually seen entering the Jones' apartment by climbing through the window via the fire escape along with her greeting ("Hey, hey, hey!"). CeCe usually gets Rocky into interesting adventures
and
in trouble. They're opposites, but that's how their friendship works. (
See: ReCe
)
"Show It Up"
). They are both talented dancers. Their dad,
Curtis Blue
, hopes that they'll both become doctors, even though Rocky wants to become a dancer and Ty wants to be a rapper. They work together (along with CeCe) to showcase their talent and dedication to their dad by setting up a surprise performance for him in "
Doctor It Up
". Ty also tries to keep their dad from turning on the television to avoid seeing Rocky on the show. There are instances where Ty looks out for his little sister, such as collecting signatures at school to sponsor her in the dance marathon in "
Give It Up
" and supporting her modeling career in "
Model It Up
". They do fight sometimes, but always are there for each other in the end.
(See: Ry)
Model It Up
". It was thanks to her advice that he decided to take off on an adventure, tagging along in his sister's suitcase while they were en route to Los Angeles in "
Shake It Up, Up & Away
". Rocky helps CeCe babysit Flynn in episodes throughout the seasons. Although he can get along with her, he does not sympathize for her when she goes along with CeCe's adventures.
(See: Flocky)
Shake It Up, Chicago
. He was upset when Rocky said she was taking the modeling job in "
Model It Up
", where he revealed that she's the one who maintains his eyebrows. Rocky came to Deuce for help when she needed to find a game for a poor boy during Christmas in "
Jingle It Up
". Rocky accidentally kissed Deuce, as she had a crush on his indentical cousin, Harrison, and had mistaken him for Harrison. She tried not to throw up after finding out. They continue to be close friends, helping each other out in the third season.
(See: Reuce)
Shake It Up, Chicago
 dancer, and schoolmate. They don't often get along and like to throw insults at each other, but they can be friendly at times. Rocky agreed for her and CeCe to go to his house for Vatalihootsit Day ("
Vatalihootsit It Up
"), where he says he thinks she's the smartest girl in their school. In "
Show It Up
", she asked him and his sister, Tinka, to join her team to defeat Candy Cho; however, he and Tinka left to join Candy's group. In "
Break It Up
", they are seated together and her cast shows Gunther's signature. He thought she was some sort of "witch" in "
Kick It Up
". He helps her with her modeling in "
Model It Up
". In "
Split It Up
", Rocky is jealous of CeCe and Gunther dancing on
Good Morning Chicago
and initially agrees to help Tinka get CeCe sick so she can't dance on the show. 
(See: Runther)
Tinka is Rocky's former frenemy. They don't often get along and Tinka takes every opportunity to insult Rocky. They were friendly in the episode "Vatalihootsit It Up" when Rocky accepted her invitation to their home. Rocky approaches her and Gunther in "Show It Up" to suggest that they join as one team to beat Candy Cho in the talent show. In "Split It Up", Tinka seeks help from Rocky after the two of them were left out of the featured dance on Good Morning Chicago . She tries to make her feel jealous about CeCe and Gunther dancing on the morning show together. In "Tunnel It Up", Rocky and Tinka (along with Cece) seem to get along apart from the odd insult. They become friends in "Fire It Up ", after Gunther moves to the old country and she tries to win Rocky and Cece 's friendship. They've continued on as friends, with Tinka even helping CeCe to get Rocky back on Shake It Up, Chicago!. (See: Ronka)
Logan Hunter (Close Friend, Crush, Ex-Boyfriend)
Logan and Rocky first meet in Oh Brother It Up. Rocky and Logan show a really friendly connection when they meet and Logan hires Rocky to work at Bob's Kabobs. Rocky and Logan seem to like each other a lot. However, in a later episode, Clean It Up, Rocky and Logan instead show a romantic connection, as they danced together, and kiss each other on the cheeks. She will try to convince CeCe and Logan to get along so that she and Logan can date in Love & War It Up. In the same episode, Logan becomes Rocky's boyfriend, but they break up since CeCe agreed to try to get along with Logan but he didn't want to so Rocky broke up with him but they get back together. (See: Rogan)
Trivia
Rocky's original name in the pilot episode, "Dance, Dance, Chicago", was Mickey Red
Rocky didn't want to be on Shake It Up! Chicago at first. ("Start It Up")
Rocky and CeCe used to dance on the street. ("Start It Up")
Rocky got CeCe on Shake It Up! Chicago by handcuffing the two of them and forcing her to dance on stage. ("Start It Up")
Rocky's full name is Raquel Oprah Blue ("Meatball It Up")
Rocky is scared of roaches ("Meatball It Up")
Rocky once ate a 10 pound meatball. ("Meatball It Up") 
Rocky expects everyone to like her. ("Give It Up")
She has a growth spurt, which explains why she is very tall.
CeCe laughs at Rocky's full name, Raquel. ("Meatball It Up")

Added by

-shaheimrocksitup

Despite being a vegetarian, Rocky has eaten meat on a few occasions ("Meatball It Up", "Party It Up", "Wild It Up", "Oh Brother It Up"). She is, however, still true to animal rights.
She had the only perfect attendance record at her school. ("Wild It Up").
She hates dirtiness. ("Meatball It Up", "Hook It Up")
She has very large feet and at one point was wearing her older brother's shoes. ("Add It Up")
She takes honors classes at school. ("Sweat It Up")
One of her sweaters was also seen in the Wizards of Waverly Place episode, "Lucky Charmed", worn by the character Harper Finkle. ("Heat It Up")
She knows many embarrassing secrets about CeCe.
She also knows embarrassing secrets about Ty. ("Show It Up")
Michelle Obama hugged her on the local news. ("Show It Up")
She once cooked 300 turkeys for Thanksgiving for the needy. ("Show It Up")
Rocky did not know that CeCe had dyslexia until Add It Up.
She was made fun of as a young girl because of her height.

Added by

Cori11

She gets frustrated when near cool guys and girls.
Rocky always tries to reach her goal.
She does not like it when she is called "too good" or a "goody-two shoes".
She took karate lessons. ("Kick It Up")
She hates it when somebody insults her relatives
CeCe gave her the nickname "Rocky", although she preferred to be called her real name when she was a little kid. ("Shrink It Up")
Rocky is shown to be a vegetarian and an animal lover. ("Meatball It Up")
CeCe, while praying, reveals that Rocky is a believer in God. In CeCe's words, while praying to God, Rocky, quote: "Hangs out with you (God) on Sundays and she reads your (God's) book..." ("Break It Up")
Rocky wanted to be on Good Morning Chicago and to get a spotlight dance with CeCe. ("Split It Up ")
Rocky hates that CeCe pushes her around and tells her what to do. ("Shrink It Up")
She has a clean permanent record at school ("Protest It Up")
She hates tacos. (" Weird It Up")

Added by

Hardfess

Her catchphrase is "Hey, Hey, Hey!". It is often said when she enters CeCe's apartment through the window.
She changes her catchphrase to "Ho, Ho, Ho" for Christmas ("Jingle It Up")
Her fear of flying is revealed in "Made In Japan" after Cece made Rocky dance on the wing of the air plane from World War I in Shake It Up, Up & Away.
She has an oddly-shaped toe. ("Spirit It Up ")
She is the tallest out of all the main characters.
Her middle name is Oprah, which is revealed in Merry Merry It Up.
Her phone number is 555-0189.
She finds it hard not to pee in pools.
She always gets good grades.
She used to watch Shake It Up, Chicago every Saturday.
She never gives up on dancing
She returns to her position on Shake It Up, Chicago in Forward & Back It Up.
Rocky somewhat sensitive about her height, and can at times have a very bad reaction to others mocking it. ("Apply It Up", ("Protest It Up")
Her hearthrob is Justin Bieber and Justin Starr (Former).
She is left-handed
She (along with CeCe) choreographed Lady Gaga
She was out to kill Ty because he didn't put her in a dance, but it was actually all in CeCe's dream. ("Switch It Up")
She was complimented as the best dancer on Shake It Up, Chicago! by Phil. ("Forward & Back It Up")
She is the ex-girlfriend of Logan Hunter. ("Love & War It Up")
She said she is the "tallest girl in Japan!" ("Made In Japan")
She can speed-text. ("Love & War It Up")
She is in honors' class so she may be an accelerated student.
She had a designer bag in which she wasn't accepted into a university because it was made of rare baby calves ("In The Bag It Up")
Memorable Quotes
"Hey, hey, hey!"
"Oh my Godfather!"
"Oh my Gondola!"
"Do you know what this means? We just choreographed Lady GaGa."
Gunther: "Adorable, no?" Rocky: "No, horrifying, yes."
"Like you miss having a zit on your rear end."
"Tinka, you don't need to make a science project, you are a science project."
"Ho, ho, ho!"

Added by

Beckward

"We are very popular at parties. You know I can blow pop out of my nose."
"Yeah, that's how it starts, first energy drinks that leads to harder stuff, next thing you know you're thrown off the show, you drop out of school, your mom kicks you out and you're living behind a dumpster and everyone knows that you can't plug your cellphone into a rat's mouth!"
"Everybody likes me, I'm adorable!"
"Show me a cheek, baby. Show me a cheek."
"CeCe made me~!"
"I'm telling you now, I'm not wearing yellow at your fantasy wedding."
"Oh, we're definitely free tomorrow."
"Call me, you know, if I ever get a cellphone!"
"Hit me with a raccoon! AAAH!"
"I have the Justin Starr doll, I have the Justin Starr bedspread, and if all goes well, I'll have the..JUSTIN STARR!!!!
"CANDY.. STINKIN... CHO!!!!!"
CeCe: "We can be even younger! I'll wear footie pajamas!" Rocky: "I'll drink from a bottle!"
"She likes me, EVERYBODY LIKES ME!"
"Uh oh, I think I'm gonna pukie wukie!"
"I think there might be BIG kids there."
"It's a stinkin' dime."
"Someone stole our dime."
"You know breakfast is the most important meal of the day."
"Ha! You sold us these watches. Mine has the big hand and hers has the little one."
"Those dancers are sick!"
Rocky: "Okay, which one should we wear for our spotlight dance?" CeCe: "Definitely the blue." Rocky (hides blue outfit): "Okay, now which one should we wear for the spotlight dance?"
Cece & Rocky: "We got the spotlight dance, you didn't, you didn't!"
Gunther: "I am Gunther!" CeCe: "And I am Gunther's girlfriend..." Rocky: "And I am loving this!" (laughs)
"You know, when I have a daughter, I'm naming her CeCe!"
CeCe: "Bad fall." Rocky: "Ehh, I give it a B minus."
"C'mon CeCe! If I fell, wouldn't you be there to pick me back up? Wait... don't answer that. I want to believe the answer is yes."
"It should be me!"
"And... run quickly and deny everything!"
"You're in my seat. Yeah, move it!"
"How cool am I!"
"I'm meeting up with the Complication."
CeCe: "Why can't I be a valemictorium?" Rocky: "I think you just answered your own question."
"Why don't you be like a tub of egg salad and put a lid on it?"
"Your parents! They were getting all PG-13!"
"Maybe they just quit or they went to put another shrimp on the BAARRRBBIE!"
"Grammy likes me... Mrs. Locassio likes me, EVERYBODY LIKES ME!"
"I don't guess, I KNOW!"
"I just had my first.. and second kiss!"
"He said the best dancers, not the most delusional!"
"Looks like these pineapple chunks aren't the only things full of baloney."
"Gunther's so cute, Gunther's such a great dancer, oh I wonder what Gunther would look like on a horse!"
"No, Cece, you need help!"
"I know, we can rescue Justin and he can live under bed until we escape to a deserted island where we'll live happily ever after, in my tree-house castle."
"If my mom asks, tell her I'm at the library, or don't, the Rock doesn't care-how cool am I?"
"And this has been another episode of CeCe goes bonkers. Join us next week when she accuses random pedestrians of stealing her look."
"I begged, I cried, I promised to do better in school, but we all know that is not possible."
"Wait, if the school doesn't have an Arts program, students become bored, drop out, crime rates rise, jobs disappear, families move away and before you know it Pepe is flushed away like it never existed in the first place."
Interviewer: "Who's Rocky Blue?" Rocky: "I'm CeCe's best friend...Oh sorry...and dance partner."
Mark Taussig: "Why is dance special to you?" Rocky: "Because dancing is fun, dancing is cool dancing is, you know, great,"
"And I have an appointment with reality, bye."
"Yes, I totally get it now; you two don't understand a thing about romance."
"Orange is not my color, I look like a traffic cone."
"Dancing with Justin is the first step to me becoming, Mrs. Justin Starr."
"CeCe, enough with the reindeer games."

"Mr Darcy this is so sudden but yes, I will marry you,"

Added by

Dovefence

Rocky: "Cost me?" Deuce: "Oh hello," Rocky: "You don't have any idea what I've been through to get that toy, not only have I lost the Christmas spirit but I am temporarily banned from the Lakefield Mall, so hand it over or I'm stuffing you into a stocking."
Rocky: (To Tinka) "I would be upset, but I'm too busy enjoying the fact that...(with CeCe) We got the spotlight dance, you didn't, you didn't, sucker, word!"
(To J.J. Jones) "Go ahead, Mr. Darcy!...I mean, Mr. Jones."
"Keep it real, Mr. Jones."
(To Principal Rabinoff) "Hi buddy, my principal..."
Rocky: "I'm so into this book, Jane Austin's Pride and Prejudice-you have to read it!" CeCe: "No thanks, I don't need to read some book to know that prejudice is wrong." Rocky: "It's not about prejudice, it's about romance in the 19th Century, people back then wrote the most poetic love letters to one another...now you're lucky to get a text that says you're hot smiley face."
Rocky: "Maybe you should break up with Savannah." Deuce: "Why would I do that?" Rocky: "Because, you never broke up with anyone, and now it's your one and only chance."
"I am the ghost of Christmas DANCE!!"
"Because you havent bought it yet!?"
Logan: "So... We gonna talk about the kiss or not?" Rocky: "Don't even refer to it as that, CeCe can not find out that it happened. So from now on, don't use the word "kiss", okay, use the word...'puppy'." Logan: "Okay, fine, but don't forget you're the one who gave me a puppy first." Rocky: "You gave me a puppy right back!" Logan: "Are you gonna deny you liked the puppy?"
Gallery
The image gallery for Rocky Blue may be viewed here.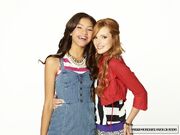 Video Gallery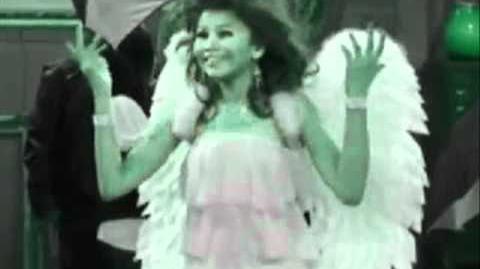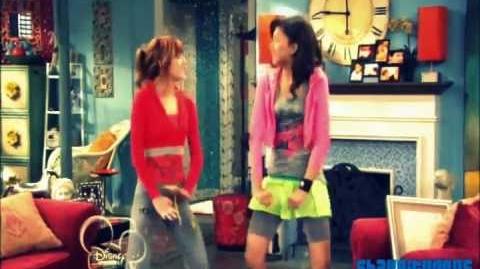 References