Saltare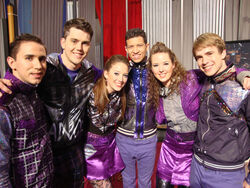 Members
Billy Jackson
Brittany Fortier
Chaz Robinson
Lee Reisig
Lisa Brown
Tyler Perez
Professional Information
Origin:
Raleigh, North Carolina
Style(s):
jump rope, hip-hop
Affiliation(s):
America's Best Dance Crew
Official Twitter:
@saltarecrew
Saltare is a dance crew that was featured in the episode Wild It Up, dancing to the song We Right Here. They were contestants on the show, America's Best Dance Crew in season 5, finishing 5th overall.
These professional jump ropers are seeking exposure for their sport while at the same time conquering the dance world. They've walked away from their college degrees and steady jobs in pursuit of a dream: to become professional jump ropers and pioneers of a burgeoning sport.
All six members are a part of the USA Jump Rope All Star team, which only features the best of the best in the country. Saltare comes to America's Best Dance Crew to expose the sport they've dedicated their lives to, challenge themselves in a different arena, and prove that jump rope is more than just child's play.
Ad blocker interference detected!
Wikia is a free-to-use site that makes money from advertising. We have a modified experience for viewers using ad blockers

Wikia is not accessible if you've made further modifications. Remove the custom ad blocker rule(s) and the page will load as expected.