Shake It Up, Chicago!



Location

Host

Choreographer

Shake It Up! Chicago is a weekly dance show where CeCe and Rocky got their big break. It is co-hosted by Gary Wilde and Ty Blue. Gary is also the executive producer of the show. It airs every Saturday for people in the Chicago, Illinois area. In the episode, Fire It Up the Shake It Up, Chicago! studio was accidentally burned down by Gary Wilde after he left one of his tanning beds on and the show was put on hiatus leaving the dancers and Gary out of a job. The episode when it gets restored is Quit It Up.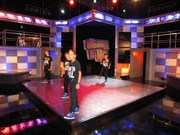 History
Shake It Up, Chicago!'s early history is unknown but it is presumed it has been on the air for decades.
Crew
Dancers
Current
Former
Featured
Eclectic Gentlemen
The Vixens
The Electrolytes
The Highlighters
Rejected
Ad blocker interference detected!
Wikia is a free-to-use site that makes money from advertising. We have a modified experience for viewers using ad blockers

Wikia is not accessible if you've made further modifications. Remove the custom ad blocker rule(s) and the page will load as expected.