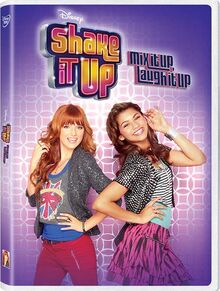 Disney released the first volume for Shake It Up on June 18th 2013.
Volume 1: Mix It Up, Laugh It Up
Release date: June 18th 2013
Description: For best friends CeCe Jones (Bella Thorne) and Rocky Blue (Zendaya), getting hired as dancers on TV's "Shake It Up, Chicago" is huge! However, the road to dance superstardom is paved with hilarious misadventures -- not only onstage, but also behind the scenes with family, friends and rivals. Can their BFF bond survive the challenges of teen life and the glare of the spotlight? See how it all began in seven awesome episodes from Disney Channel's mega-popular series. Featuring the coolest moves, the hottest music and your favorite characters having the time of their lives, SHAKE IT UP: MIX IT UP, LAUGH IT UP is a nonstop, high-energy celebration of friendship, family and fun!
Run time: 162 minutes
Number of discs: 1
Rated: Not Rated
Episodes:

Ad blocker interference detected!
Wikia is a free-to-use site that makes money from advertising. We have a modified experience for viewers using ad blockers

Wikia is not accessible if you've made further modifications. Remove the custom ad blocker rule(s) and the page will load as expected.