Home
Talk

8
636pages on
this wiki
Welcome to Shake It Up Wiki
The wiki about Shake It Up! that anyone can edit
636 articles since September 22, 2010
Please read the Site Policy before you start editing!

Shake It Up revolves around the adventures of best friends Rocky Blue (Zendaya) and CeCe Jones (Bella Thorne), who with the help of their longtime friend, Deuce Martinez (Adam Irigoyen), fulfill their favorite dreams of becoming professional dancers when they land roles as dancers on a local show, "Shake It Up, Chicago!". Cece and Rocky deal with their circumstances, by adapting and maintaining their social status at school while watching CeCe's little brother, Flynn (Davis Cleveland), and the antics of their TV show which includes their matching the skills of their competition, notably brother and sister, Gunther and Tinka (Kenton Duty and Caroline Sunshine). The show also has storylines which include Rocky's brother Ty (Roshon Fegan), who also has dance skills. Selena Gomez sings the theme song, "Shake It Up" and featured it on "Shake It Up: Break It Down".



Brain It Up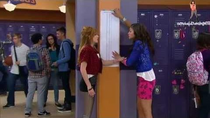 After getting dropped from her honors classes for failing an assessment test, Rocky begins to embrace an easier academic lifestyle, while CeCe tries to adapt to her new academic status in the honors classes after acing the same test – accidentally. Meanwhile, Deuce tries to help Flynn give up his safety blanket for good. (Read More...)
---

Deuce Martinez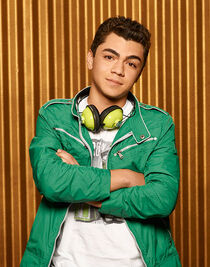 Martin "Deuce" Martinez is a main character in the TV series, Shake It Up. He has been described as a con-man, usually seen selling random (sometimes useful) things from the inside of his jacket. Deuce has connections to everything. He has many family members. His most prominent family member is Uncle Frank, who owns a restaurant called Crusty's, where Deuce works. He attends John Hughes High School in Chicago, Illinois with his friends, Ty Blue, Rocky Blue, and CeCe Jones. He usually babysits Flynn Jones and is in a relationship with Dina Garcia. He can speak fluent Spanish, as seen in "Twist It Up" and "Weird It Up". It was also revealed that his full name is Martin Martinez in the episode Remember Me. Deuce is portrayed by Adam Irigoyen. (Read More)
---

Deuther: Deuce Martinez & Gunther Hessenheffer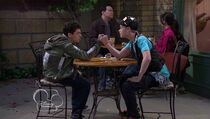 Deuther is the friendship pairing between Deuce and Gunther (Deu/ce & Gun/ther). They are frenemies, but sometimes they act like they're friends. (Read More)
---

Our Generation

Featured in: Season 1


Performed by: Sibel Redžep (Read more...)
Get the My Wikia App!
With Wikia's official flagship app, My Wikia, you can search for communities and add them to your home screen and read constantly evolving, deep content in a customizable format.
DOWNLOAD NOW FOR FREE!


Remember Me
"Shake it Up Chicago" hosts a charity fashion show with Rocky, Tinka and CeCe as its star models, however the girls' runway dreams are cut short when a fashion mishap leaves CeCe with amnesia. While Georgia and Flynn try to follow the doctor's orders and give CeCe time to heal, a devastated Rocky tries everything she can to get her best friend to remember her and the special memories they shared. This episode served as the series finale.
(Read more...)
Create blog post
Latest Blog Posts
-Shake It Up intro-

When the crowds wants more. They bring on the thunder. Cos u got my back and I'm…

Read more >

Who thinks Shake it Up should still be airing on Disney Channel? Fed up we keep getting shows that …

Read more >
See more >
Create blog post
Administrator Blog Posts
Hey guys!

This is my very first admin blog. :)

Anyways I've been talking with Rae (which was a long t…

Read more >

It's that time that we need to get the wiki in it's best shape so that it is presentable with all t…

Read more >
See more >