Home
Talk

7
587pages on
this wiki

Welcome to Shake It Up Wiki
The wiki about Shake It Up! that anyone can edit
587 articles since September 22, 2010
Please read the Site Policy before you start editing!

Shake It Up revolves around the adventures of best friends Rocky Blue (Zendaya) and CeCe Jones (Bella Thorne), who with the help of their longtime friend, Deuce Martinez (Adam Irigoyen), fulfill their favorite dreams of becoming professional dancers when they land roles as dancers on a local show, "Shake It Up, Chicago!". Cece and Rocky deal with their circumstances, by adapting and maintaining their social status at school while watching CeCe's little brother, Flynn (Davis Cleveland), and the antics of their TV show which includes their matching the skills of their competition, notably brother and sister, Gunther and Tinka (Kenton Duty and Caroline Sunshine). The show also has storylines which include Rocky's brother Ty (Roshon Fegan), who also has dance skills. Selena Gomez sings the theme song, "Shake It Up" and featured it on "Shake It Up: Break It Down".



Reality Check It Up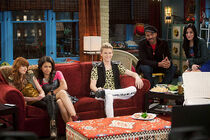 CeCe and Rocky throw a viewing party to watch "Shake It Up, Chicago's" feature story on a national TV show True Teen Life, but are shocked when the show makes ridiculous claims such as CeCe having a crush on Gunther, Rocky being a major diva and Tinka being the heart and soul of Shake it Up, Chicago. (Read More...)
---

Ty Blue

Tyler "Ty" Blue is a main character on Shake It Up. He is the son of Curtis Blue and Marcie Blue and the older brother of Rocky Blue. He is friends with CeCe Jones, Gunther Hessenheffer and Deuce Martinez. He lives in an apartment in Chicago, Illinois with his family in the suite above the Jones family, for whom he often babysits Flynn Jones. He is eventually made the Shake It Up, Chicago!'s new host. Ty is portrayed by Roshon Fegan. (Read more...)
---

Rogan: Rocky Blue & Logan Hunter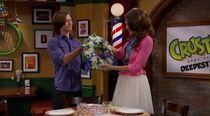 Rogan is the romantic/friendship pairing of Rocky Blue and Logan Hunter (R/ocky + L/ogan). Rocky and Logan show a friendly connection when they met in the episode Oh Brother It Up and although Rocky and Logan have had a brief realtionship due to Logan not appearing in many episodes, this is one of the most popular and supported pairings on the show. (Read more...)
---

Whodunit

Featured in: Shake It Up: Live 2 Dance
Performed by: Adam Hicks & Coco Jones


(Read more...)

Get the My Wikia App!
With Wikia's official flagship app, My Wikia, you can search for communities and add them to your home screen and read constantly evolving, deep content in a customizable format.
DOWNLOAD NOW FOR FREE!

Sundays at 8:30pm on Disney Channel
In The Bag It Up will air in:
May 12 2013 20:30:00 EST Javascript disabled.
Rocky, CeCe and Tinka split the cost of renting a designer purse, and then begin arguing over who gets to use it. Deuce joins his dad in a bowling tournament, but ends up finding out that Dina is on the opposing team.
(Read more...)

Create blog post
Latest Blog Posts
Aloha. I'm new here, just joined today, and i lvoe this wikia so much. my favorite ships are GeCe a…

Read more >

What do you guys think of my FanArts?

Read more >

Hi.My name is April and i ship GeCe and Tynka here in Shake it up! Other ships on my profile. And a…

Read more >
See more >
Create blog post
Administrator Blog Posts
This wiki is now accepting Allied Wikis. You can apply for your wiki to become an Allied Wiki if yo…

Read more >

Hey Shake It Up fans! If you love music, you should check out the Fifth Harmony Wiki.

This wiki is a…

Read more >
See more >