Home
Talk

8
644pages on
this wiki
Welcome to Shake It Up Wiki
The wiki about Shake It Up! that anyone can edit
644 articles since September 22, 2010
Please read the Site Policy before you start editing!

Shake It Up revolves around the adventures of best friends Rocky Blue (Zendaya) and CeCe Jones (Bella Thorne), who with the help of their longtime friend, Deuce Martinez (Adam Irigoyen), fulfill their favorite dreams of becoming professional dancers when they land roles as dancers on a local show, "Shake It Up, Chicago!". Cece and Rocky deal with their circumstances, by adapting and maintaining their social status at school while watching CeCe's little brother, Flynn (Davis Cleveland), and the antics of their TV show which includes their matching the skills of their competition, notably brother and sister, Gunther and Tinka (Kenton Duty and Caroline Sunshine). The show also has storylines which include Rocky's brother Ty (Roshon Fegan), who also has dance skills. Selena Gomez sings the theme song, "Shake It Up" and featured it on "Shake It Up: Break It Down".



Love & War It Up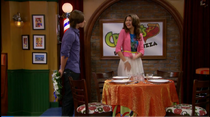 Now that they're no longer going to be related, Rocky tries to convince CeCe and Logan to get along so that she and Logan can date. Meanwhile, Flynn and Deuce invite Tinka to be the lead singer in their air guitar band. (Read More...)
---

Tinka Hessenheffer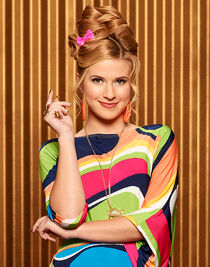 Tinka Hessenheffer is a main character in the TV series, Shake It Up. Tinka dances on the local popular teen dance show, Shake It Up, Chicago!. She is the daughter of Kashlack Hessenheffer and Squitza Hessenheffer and the fraternal twin sister of Gunther Hessenheffer. She lives in an apartment with her family in Chicago, Illinois and attends John Hughes High School with fellow Shake It Up, Chicago! dancers, Rocky Blue and CeCe Jones. There rarely is a time when Tinka isn't making a remark to CeCe and Rocky with her brother, Gunther. She was born in a small mountain country in Europe that has never been addressed by name, but referred to many times. She was a recurring character in Season 1, but was upgraded to a main cast member in Season 2. Once frenemies, she is now friends with Rocky Blue and Cece Jones since Fire It Up.

Tinka is portrayed by Caroline Sunshine.(Read More)
---

GeCe: Gunther Hessenheffer & CeCe Jones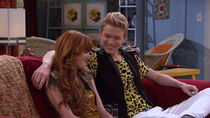 GeCe (G/unther + C/eCe) is the romantic pairing of Gunther Hessenheffer and CeCe Jones. Gunther and CeCe maintain a love/hate relationship, and they are frenemies at the moment, although Gunther has shown signs of liking CeCe, and CeCe liking him. They have gone out once in Hot Mess It Up when CeCe and Rocky made a teen advice show called, You're a Hot Mess and We're Not! The two thought that Gunther was leaving back to the old country because of some bad advice CeCe gave him on the Webcast. In the episode Reality Check It Up a national TV show claims that CeCe has a crush on Gunther. This episode showed that Gunther still has some feelings for CeCe and he still isn't over her from when they had gone out. In Surprise It Up, Gunther and CeCe go to a mailman's funeral together. (Read More)
---

Don't Push Me

Featured in: Season 2


Performed by: Coco Jones (Read more...)
Get the My Wikia App!
With Wikia's official flagship app, My Wikia, you can search for communities and add them to your home screen and read constantly evolving, deep content in a customizable format.
DOWNLOAD NOW FOR FREE!


Remember Me
"Shake it Up Chicago" hosts a charity fashion show with Rocky, Tinka and CeCe as its star models, however the girls' runway dreams are cut short when a fashion mishap leaves CeCe with amnesia. While Georgia and Flynn try to follow the doctor's orders and give CeCe time to heal, a devastated Rocky tries everything she can to get her best friend to remember her and the special memories they shared. This episode served as the series finale.
(Read more...)
Create blog post
Latest Blog Posts
So recently, I started a petition to get Disney Channel Free to air, we need 100 signatures. [[1]] …

Read more >

Hello! I have done a bunch of research on what elements the characters elements would have, if they…

Read more >

6 months after the events of reunion, the gang decides to move permanently on Chicago again. Rocky …

Read more >
See more >
Create blog post
Administrator Blog Posts
Hey guys!

This is my very first admin blog. :)

Anyways I've been talking with Rae (which was a long t…

Read more >

It's that time that we need to get the wiki in it's best shape so that it is presentable with all t…

Read more >
See more >