"
After I danced, I felt something I haven't felt in a long time....pride. I was proud of myself!
"
Ty Blue
Biographical Information

Name:

Tyler Blue (Ty Blue)

Gender:

Male

Age:

15 season 1

16 season 2


17 season 3

Height:

5'7"

Nationality:

Afircan-American

Hometown:

Born:

c.1995
Behind the Scenes

First Seen:

Last Seen:

TBA

Portrayed by:
Tyler "Ty" Blue is a main character on Shake It Up. He is the son of Curtis Blue and Marcie Blue and the older brother of Rocky Blue. He is friends with CeCe Jones, Gunther Hessenheffer and Deuce Martinez. He lives in an apartment in Chicago, Illinois with his family in the suite above the Jones family, for whom he often babysits Flynn Jones. His father is a doctor that returned in the second season after being away on business trips and working overseas. Although he is a very good dancer, he does not want to go try out for Shake It Up, Chicago!, claiming he doesn't "dance for the man". Instead, he aspires to be a rapper. Later, he changes his mind and reveals to his sister Rocky that he does want to be a dancer on Shake It Up, Chicago! and attends the auditions for the revamped version of the show, with Tinka Hessenheffer as his dance partner. He is eventually made the show's new host. He attends John Hughes High School. Ty is portrayed by Roshon Fegan.
Personality
Ty is Rocky's hip, smooth, and sarcastic older brother who is popular at school, loves to dance, and knows how to charm the girls. He is seen as a very cheerful, sociable guy and always seems to have a date. Being raised with his sister, he is also logical and smart, especially when it comes to his money. He has been known to be saving up for a car and he gets a job at Crusty's. His personality shone through most in "Split It Up" when he rapped about things like cheap haircuts and had to consult Deuce and Flynn to up his bad boy image. By the end of the episode, he had helped an elderly woman retrieve her purse from a robber and delivered a baby panda at the zoo, calling the process "beautiful". Although Ty hasn't claimed to have any girlfriends, he went on a date with Tinka, but nothing further has been shown about their relationship. It is revealed in "Weird It Up" that his relationships don't last, because he blows girls off when the relationship gets too clingy.
Change Of Personality Over Time
In Season 1
In Season 2
In Season 3
In Season 1, Ty Blue stated that he "doesn't dance for the man", but in Season 3, Ty Blue auditions to be on Shake It Up, Chicago!. Ty learns to be proud of his dancing skills again and wants to be hired as a dancer on the show.
Initially the executive producer and the host are unsure which whether to pick Rocky or Ty. Eventually though, Ty is chosen over his sister to be a dancer on Shake It Up, Chicago!.
When Shake It Up, Chicago! is in need of a new host, Phil, the executive producer, hires Ty as the new host. Ty currently works on Shake It Up, Chicago! as the host and a featured dancer.
Relationships With Other Characters
Curtis Blue
, hopes that they will become doctors, even though Rocky wants to become a dancer and Ty wants to be a rapper. They work together (along with CeCe) to showcase their talent and dedication to their dad by setting up a surprise performance for him in "
Doctor It Up
", as well as Ty trying to keep their dad from turning on the television to avoid seeing Rocky on Shake It Up. There are instances where Ty looks out for his little sister, such as collecting signatures at school to sponsor her in the dance marathon in "
Give It Up
" and supporting her in "
Model It Up
". He also worked with CeCe and Tinka to get Rocky back on Shake It Up, Chicago!.
(See: Ry)
CeCe Jones (Close Friend; Possible Crush)
Model It Up
", where they also hugged (with Deuce and Flynn) when they thought Rocky was actually leaving. In "
Show It Up
", CeCe grabs Ty's leg when she's begging for him to help her and Rocky in the talent show against Candy Cho and the Bulldogs cheerleading squad. CeCe, along with Rocky, takes Ty and Deuce to the
Olive Pit
in "
Meatball It Up
". Although Ty doesn't pay much attention to CeCe or Rocky when they need his help, he's still there for them when they need it (as seen in "
Match It Up
", "
Show It Up
", and "
Vatalihootsit It Up
"). Ty and CeCe also teamed up with Tinka to try to get Rocky back on Shake It Up, Chicago!.
(See: Cy)
Deuce is Ty's best friend. They're always together, whether it be babysitting Flynn, at school, at
Crusty's
where they both work, or different situations that they get themselves into. They met in the 3rd grade and became friends after Deuce bought Ty's favorite video game and invited him over to play ("
Twist It Up
"). The two have similar personalities. Deuce seems to admire Ty a lot, once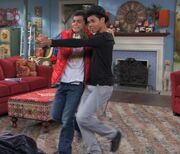 calling him his "hero", saying that he always felt safe when he was around ("
Reunion It Up
"). While Deuce is currently dating Dina, Ty goes out with different girls and seems to keep Deuce posted on his love life. Deuce knew that Ty really liked Gina so he asked Dina to please try to get along with her during their double date in "
Parent Trap It Up
". They both got tired of the girls fighting and Ty ran after Deuce after he embarrassed himself. Deuce agreed to be the translator for Ty's date with the foreign exchange student Gloria and didn't want Ty to know that she really likes
him
so he lies about Gloria wanting a long term relationship to spare his feelings ("
Weird It Up
").
(See: Tyece)
Egg It Up
", going as far as firing him and hiring Gunther instead. Flynn has also helped Ty, especially when it comes to his aspiring rap career "
Split It Up
".They get into interesting situations and adventures together, such as working for a toy company as toy testers ("
Shrink It Up
") and auditioning for a commercial ("
Vatalihootsit It Up
"). Ty is usually heard calling Flynn "Little Man". Ty oftens feels threatened by others earning Flynn's respect, such as Logan and Gunther.
(See: Tynn)
Add It Up
", where he described her as "a whackjob with good hair." Gunther paid a hesitant Ty $50 to ask Tinka out because she felt bad about never going on a date. They danced together and got to know each other during the date. By the end of it, Tinka admitted she enjoyed the date, and so did Ty, but that being a couple wouldn't work because they're so different. They played ping pong against each other in "
Camp It Up
", where Ty was again hesitant to play against her because she's a girl. Tinka demanded that he not go easy on her just because she's a girl. In
Whodunit Up?
, when Ty saw Tinka putting the note in his locker he thought she was the one sending him the secret admirer notes. In
Ty It Up
, Ty dances with Tinka for their audition for
Shake It Up, Chicago!
. They have been talking and interacting with each other in a friendly way since then.
(See: Tynka)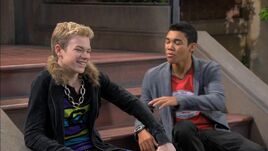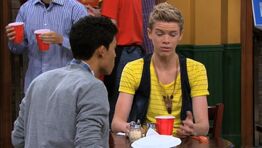 Gunther is a schoolmate and /frenemy of Ty's. Sometimes they don't get along, due to Ty thinking Gunther is unusual. For the most part, they are friends and Ty gets along with Gunther more than anyone else on the show besides Tinka. In "
Age It Up
", they were involved in a subplot similar to "
My Fair Lady
", where Ty tried to make Gunther more "hip" after seeing him get rejected by Gunther's crush,
Danielle
. He succeeded, turning Gunther into a "cool" guy called "G" by making over his appearance and attitude. When Danielle accepted Gunther's offer for a date, Ty offered to get a pizza with him to celebrate, which Gunther rejected because he thought he was too good for Ty. They made up by the end of the episode. They also played a few friendly games of ping pong in "
Camp It Up
" and got back at Flynn together in "
Egg It Up
".
(See: Tynther)
In their first episode together, Ty and Logan were good friends but after Rocky kissed Logan,Ty did'nt like Logan because he is protective of Rocky.Ty hates it when Logan does the "call me" signal to Rocky.Despite that Ty think Logan is a cool dude (see:Tygan)
Episode Appearances
Trivia
Quotes
Gallery
The image gallery for Ty Blue may be viewed here.