I never thought I'd make a blog post, but I feel like I need to say this. I don't like the use of my fanarts on people's profile pages, or even blog posts. I am fine with them being there, because I understand why you'd want to put them there. But, I am not even informed and people just take it without ASKING me first. And I find that they leave me NO credit. No caption that says, "Made by Americangirl742". These fanarts that I post are made by me and I'd like to know if you want to put it somewhere other than the pairing's gallery. Thank you for understanding.
Please don't take my fanarts.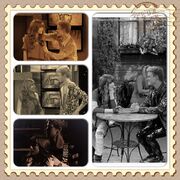 Ad blocker interference detected!
Wikia is a free-to-use site that makes money from advertising. We have a modified experience for viewers using ad blockers

Wikia is not accessible if you've made further modifications. Remove the custom ad blocker rule(s) and the page will load as expected.