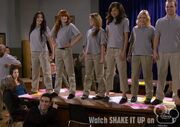 Protest it Up is set to premiere this Friday in NZ, are you excited? Have you already seen it?
Here's the promo
Principal Rabinoff: All Students will begin wearing uniform
Cece: Nooooooo!
On a shocking new Shake It Up
Ty: What is that?
It's a fashion emergency
Deuce: It's your waistband
Ty: What's it doing up on my waist?
All New Shake It Up
Friday 5:30pm
On Disney Channel
Ad blocker interference detected!
Wikia is a free-to-use site that makes money from advertising. We have a modified experience for viewers using ad blockers

Wikia is not accessible if you've made further modifications. Remove the custom ad blocker rule(s) and the page will load as expected.